Our Bed And Breakfast's Rooms
Located on the second floor of a Neapolitan noble palace of the eighteenth century, the bed and breakfast I Visconti has
five double rooms, two triple rooms, one single room and one quadruple room. The double rooms can easily be turned into single rooms, if required.
Elegantly furnished, the rooms of our bed and breakfast are all equipped with private bathroom ,with shower, air conditioning, color TV, DVD player (we also have a small video library), direct dial telephone and wi-fi internet.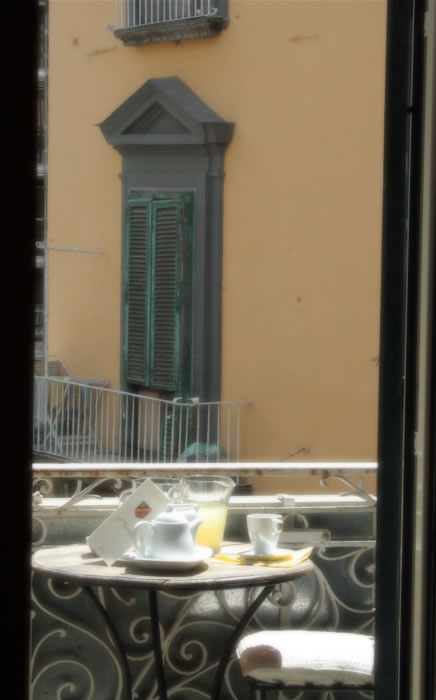 I highly recommend this B&B for everyone who want to enjoy the beauty of Naples, starting by the perfect location in the heart of tgd5 historical center, you can reach everything just 5 min walking! The staff is so kind, professional and helpful! Specially Giorgio who did his best to make my journey outstanding, giving me a bunch of advices and answering to my different requests! The room was comfortable with a beautiful view, in fine, the wifi is good enough to work (for digital nomads)! Grazie ragazzi and for sure there will be a next time!
Accommodation in a very good location, safe neighborhood, everything can be easily reached on foot. Giancarlo was extremely helpful. The room is big enough with a comfortable bed
My friend and I stayed from Saturday to Monday. The b&b is in a very typical building and still retains some original features, including the old stairs, the ceilings and the inner court. Our room was extremely clean and the staff friendly and helpful. The location is just great,as in a few leaps you are either in the middle of Spacca Napoli or in the city centre or the Quartieri Spagnoli. Easy to get there with the metro.
The accommodation is positioned in the heart of the Naples, walking distance from everything. The double beds are big, with good mattresses, the windows have blinds, we have slept very well. We had access to a small kitchen for a tea or a good coffee in the morning. The temperature in the rooms was good for December. The host is very friendly, he gave us a lot of information about the area and the places to visit or to eat. Very good place to stay, we will definitely come back.
absolutely everything was perfect. position, staff, thanks Giorgio and thanks to housekeeping the city is stunning
Low season
From 10 January to 31 March
From November 4th to November 30th
*Minimum booking of 2 nights during the weekend
High season
From April 1st to November 3rd
From December 1st to January 9th
*Minimum booking of 2 nights
Children of all ages are welcome.
From 0 to 3 years the cot is free.
Baby cots are subject to availability.
There are no extra beds available at this property.