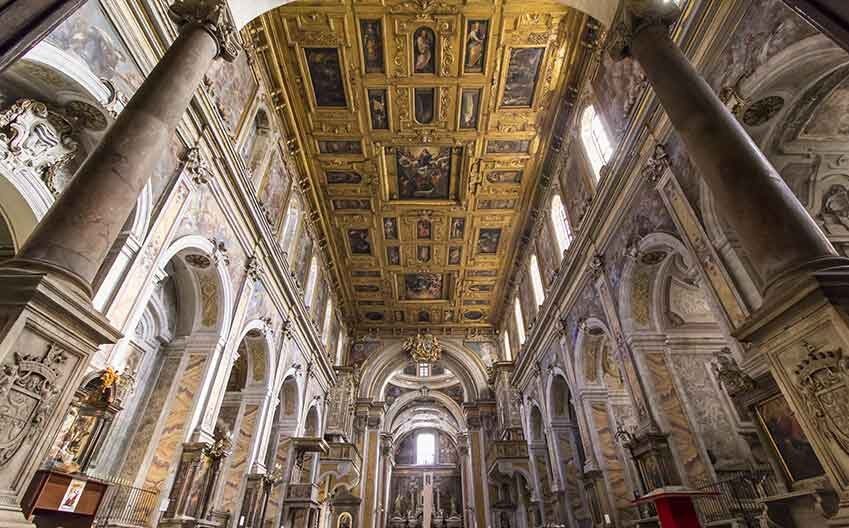 The history of the Church of Santa Maria la Nova is linked to the first conventual movements. The first Franciscan community in Naples (1216) settled on the ruins of a Roman villa, going on to found Santa Maria ad Palatium in the place where Castel Nuovo was later born. When Charles I of Anjou confiscated the area and gave the Franciscans another land on which to build the new monastery, the current headquarters was built and took the name of Santa Maria La Nova (1279).
The current appearance of the building is that of the 16th century, having been rebuilt by Giovanni Cola di Franco (1596-1599). The interior, enriched in different eras, is dominated by the ceiling, another example, after San Gregorio Armeno, of carved and gilded wooden carpentry, in which forty-six panels are set, painted from 1598 to 1603. Also visible from the facade is the large chapel of San Giacomo della Marca, frescoed by Massimo Stanzione with scenes from the life of the Saint (approximately 1644-1646). The convent preserves a refectory and two cloisters, the smaller of which is frescoed in the first half of the 17th century with grotesque motifs and scenes from the life of San Giacomo della Marca.
THE MUSEUM OF CONTEMPORARY RELIGIOUS ART
The exhibition itinerary of the A.R.C.A Museum, set up in the spaces of the Monumental Complex of Santa Maria la Nova, saw its inauguration in 2006. Through a series of exhibitions of different artistic forms, one can admire testimonies of religious works of art from 1949 to 2006, conceived by internationally renowned artists including Vincenzo Aulitto, Aviero Bargagli, Giuseppe Borrelli and Gaetano De Stefano, Annamaria Bova, Robert Carroll, Arturo Casanova, Loredana Cerveglieri, Riccardo Dalisi, Stelio Di Bello, Renato Laffranchi, Christian Leperino, Giorgio Longhin, Francesco Lucrezi, Dino Migliorini, Serena Nono, Rosa Panaro, Vincenzo Dino Patroni, Aulo Pedicini, Gianni Pisani, Andrea Pistolesi, Italo Schirra, Mauro Vaccai, Samuele Vanni, Carla Viparelli.