Piazza del Gesù in Naples, once the entrance area to the Greco-Roman city, is the ideal starting point towards the ancient center of Naples which develops along three parallel streets (corresponding to the Greek plateiai, decumani in the Roman period), intersected at an angle supported by other ways (the sienopoi or hinges).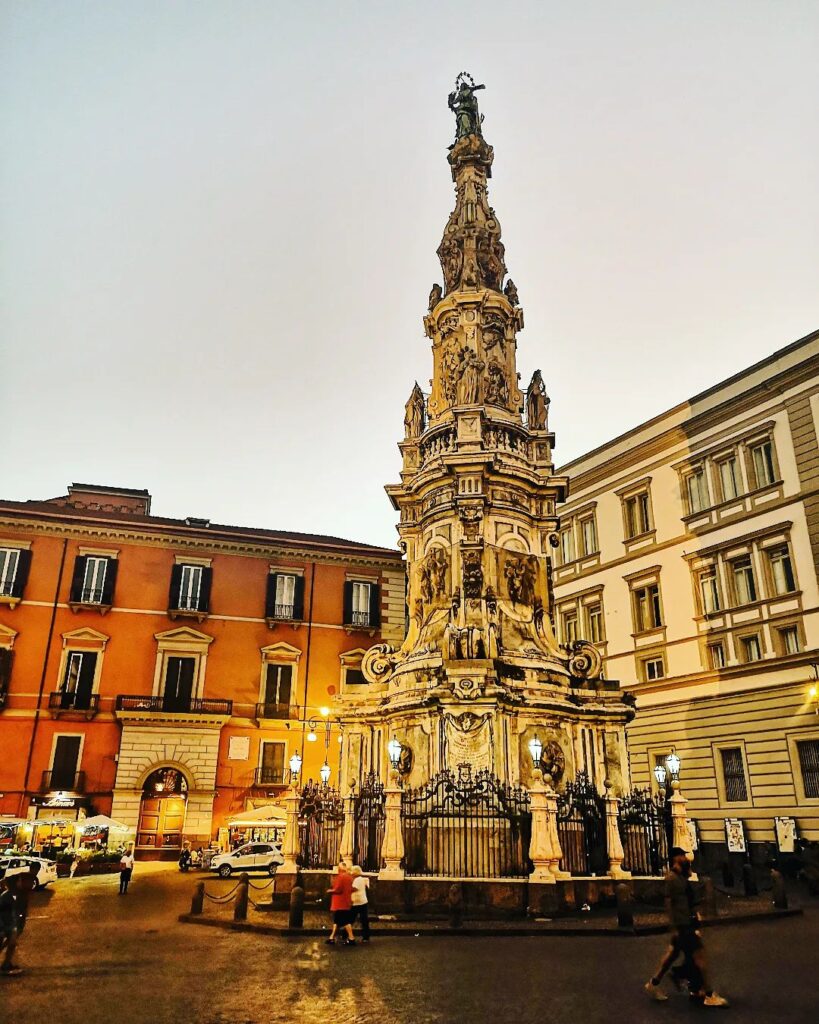 The layout of these roads is still preserved today, maintaining, after two thousand five hundred years, the same configuration designed by Hippodamus of Miletus, a Greek architect from the end of the 6th century BC.
PIAZZA DEL GESÙ IN THE CENTER OF NAPLES
Piazza del Gesù therefore introduces the first decumanus, which took on the name "Spaccanapoli" due to its separating function in the center of the city.
Currently Piazza del Gesù – and this is its particular charm – offers different stylistic typologies as a whole: beyond the walls, the complex of the monastery of Santa Chiara with its medieval tuff church; opposite, the fifteenth-century palace of the Sanseverino family, princes of Salerno, transformed into the church of Gesù at the end of the sixteenth century; in the centre, one of the typical late-baroque Neapolitan urban architectures, the spire of the Immaculate Conception, created by the architects Giuseppe Genuino and Giuseppe di Fiore with sculptural decorations by Matteo Bottiglieri and Francesco Pagano.
This monument, commissioned by the Jesuit fathers in 1743, a gigantic fusion of architecture and sculpture over thirty meters high, is one of the three spiers built in the city: a true "party machine" built in stone.