The Church of Gesù Nuovo inaugurated in 1601 by the Jesuit architect Giuseppe Valeriano, was born in 1584 from the transformation of one of the most important Aragonese palaces in the city, built around 1470 by Novello da Sanlucano for the San Severino family, princes of Salerno. The facade of the building retains the characteristic diamond-point ashlar motif typical of Renaissance noble architecture.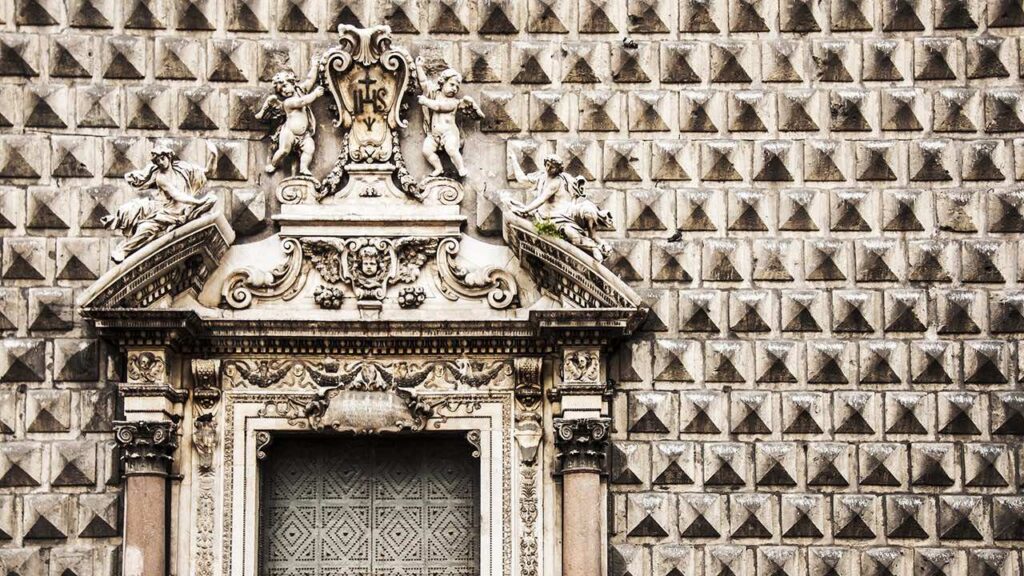 The interior is developed from an apparent central Greek cross plan. although there is a slightly longer main altar arm. The first chapel on the right is decorated by one of the greatest Neapolitan artists of the seventeenth century, Cosimo Fanzago. Architect and designer of decorative systems in polychrome marble, Fanzago creates the figures of the prophets David and Jeremiah characterized by great expressive power. The dome, rebuilt four times, preserves the Evangelists by Giovanni Lanfranco (1634) in its plumes, while other frescoes and paintings testify to the passage of Luca Giordano, Massimo Stanzione, Jusepe de Ribera and other artists active in the seventeenth-century construction site of the church. The main altar was created during the nineteenth century by Antonio Busciolano.
THE DECORATIONS OF THE CHIESA DEL GESù NUOVO
The richness of the decoration, with the frescoed walls, the stuccoes and the polychrome marbles creates a whole of great pomp and grandeur, typical of Jesuit and Baroque architecture. The fresco is located on the counter-façade of the church and is signed and dated 1725.
Francesco Solimena, the greatest Neapolitan artist of the early eighteenth century, paints the episode of the attempt by Heliodorus, minister of the Syriac kingdom of Seleucus IV, to seize the treasure in Solomon's temple. The large composition, crowded with characters but masterfully framed in its architectural scenography, expresses all the refined culture of the painter who matured after his Roman stay.
The figure of Heliodorus on the steps trying to protect himself from the knight's rearing horse, the elegant angels who beat him and the numerous characters in the background offer, in its chaotic whole, a vision with clear and balanced tones: a solution that is poised between the Classicism and the Baroque.