Im zweiten Stock eines noblen neapolitanischen Gebäudes aus dem 18. Jahrhundert verfügt das Bed & Breakfast I Visconti
über fünf Doppelzimmer, zwei Dreibettzimmer, ein Einzelzimmer und ein Vierbettzimmer. Die Doppelzimmer können bei Bedarf problemlos in Einzelzimmer umgewandelt werden.
Die elegant eingerichteten Zimmer unseres Bed & Breakfast sind alle mit eigenem Bad mit Dusche, Klimaanlage, Farbfernseher, DVD-Player (wir verfügen auch über eine kleine Videothek), Direktwahltelefon und WLAN-Internetverbindung ausgestattet.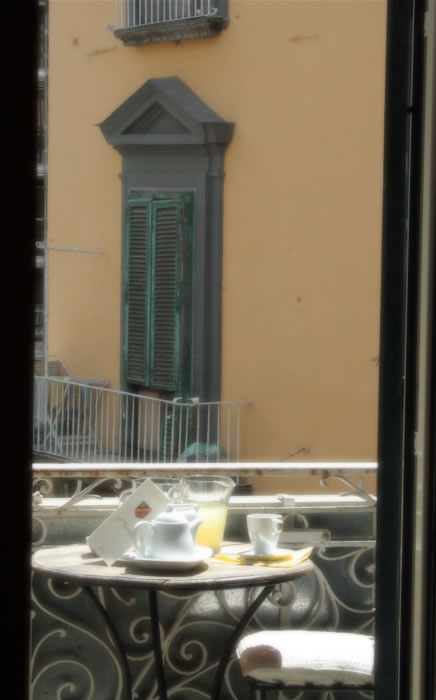 I highly recommend this B&B for everyone who want to enjoy the beauty of Naples, starting by the perfect location in the heart of tgd5 historical center, you can reach everything just 5 min walking! The staff is so kind, professional and helpful! Specially Giorgio who did his best to make my journey outstanding, giving me a bunch of advices and answering to my different requests! The room was comfortable with a beautiful view, in fine, the wifi is good enough to work (for digital nomads)! Grazie ragazzi and for sure there will be a next time!
Accommodation in a very good location, safe neighborhood, everything can be easily reached on foot. Giancarlo was extremely helpful. The room is big enough with a comfortable bed
My friend and I stayed from Saturday to Monday. The b&b is in a very typical building and still retains some original features, including the old stairs, the ceilings and the inner court. Our room was extremely clean and the staff friendly and helpful. The location is just great,as in a few leaps you are either in the middle of Spacca Napoli or in the city centre or the Quartieri Spagnoli. Easy to get there with the metro.
The accommodation is positioned in the heart of the Naples, walking distance from everything. The double beds are big, with good mattresses, the windows have blinds, we have slept very well. We had access to a small kitchen for a tea or a good coffee in the morning. The temperature in the rooms was good for December. The host is very friendly, he gave us a lot of information about the area and the places to visit or to eat. Very good place to stay, we will definitely come back.
absolutely everything was perfect. position, staff, thanks Giorgio and thanks to housekeeping the city is stunning
Kinder jeden Alters sind willkommen.
Von 0 bis 3 Jahren ist das Kinderbett kostenlos.
Babybetten unterliegen der Verfügbarkeit.
In dieser Unterkunft sind keine Zustellbetten verfügbar.